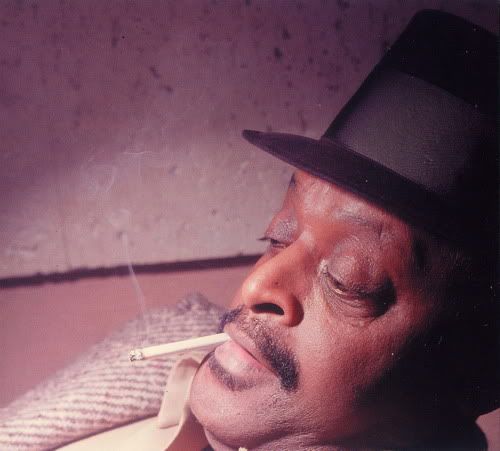 Nat Hentoff Original Liner Notes:

Ben Webster

's Soulville,1957
Johnny Griffin, one of the more venturesome of the "modern" tenors, was talking recently with Don Gold of Down Beat concerning those nonpareil jazz players who never become dated. On his list were Coleman Hawkins and Ben Webster. "Ben is phenomenal. These guys can come and play with the young cats and still fit in. These guys — like Hawk and Ben - are living legends."
There is, however, a rather wraith-like connotation in some minds to the word "legend" so that Griffin's comment might be the amplified to underline the fact that Ben's playing has been more hugely and yet tenderly alive than it is now. It was Ben who was a vital, contagions force in shaping the Sound of Jazz TV show in 1957, fusing the Basie reed section and helping to back Billie Holiday with exactness of taste and a rhythmic flow that might even have helped Jaye P. Morgan.
Ben later eared on one of the NBC-TV educational series, The Subject is Jazz, and as Whitney Barnett noted in The New Yorker: "Perhaps the best moment in the show, as well as the series to date, came during the signoff, when Webster could be heard in a singing, impassioned solo that explained, in a matter of seconds, exactly what jazz is."
A couple of weeks later, Ben played on an engagement at the Village Vaungaurd in New York, and many musicians came down and returned again to absorb the warmth and invention of Ben. Playing with him was Dave Baily, Gerry Mulligan's drummer, and after a particularly moving set, Dave came off the stand, grinning. "There's a lot of a loving going on up there," he said to a friend.
There usually is, wherever Ben is playing – not only lyric love, but booming, celebrating love and even some stomping love. It helps the playing and loving, of course when Ben has accompaniment he enjoys and with which he can relax. Ben is very fond of Oscar Peterson trio. "For one thing," he begins, "there are some piano players that get in your way, but Oscar never does and so you have nothing to worry about. One of things that dig about him is that the guy can play a lot as a soloist, but when it comes time for you to solo, he plays for you. What more can I say about Ray Brown that everybody hasn't said? I'll tell you one thing - he's done a lot of listening and it comes out in his playing. And Herb Ellis fits right in. They make so good an accompanying group besides because they've been together, really together,so long. When you get there, the table's already set for you. And it was a pleasure to hear Stan Levey there; he's improved a whole lot since I heard him on the street years ago. It's take time to learn to play the instrument to the poist that everyone, including you, is relaxed, Stan's gotten to the point."
Ben, almost everyone agrees, is a superior animator of ballads (C.f.
Time on my hands
,
Where Are You?
, and
Ill Wind
here)."I like the pretty things," he declares. "I think they say more; the important thing is to be able to feel them." Unlike Lester Young, who makes a point of knowing the lyrics of the ballads he plays, Ben admits "I don't even know the lyrics to
Stardust
. But I do sometimes get ideas about approaching a song from hearing singers. I heard Sinatra do
Where Are You?
, for example, and I thought the way he treated it and the background beautiful. I've gotten an idea from Dick Haymes on a song, and from Al Hibbler sometimes.
An identifying characteristic of Ben is his large, vibrant sound. "I've been working toward that all my playing time, and most of the guys I like - Hawk, Benny Carter, Hodges, Carney - play with a full sound. Playing in the Ellington reed section helped, because in order to blend with Harry Carney, you have to sound big. Actually, I'd say that in all respects, I got my college degree in music from working with Fletcher Henderson and my Ph.D. from Duke. Just being around Duke meant I learned a lot of things, and not only music."
Young trumpeter Ruby Braff said recently: "Jazz is not exclusively a young man's music. It's in the first twenty-five years that you learn how to play your horn, and even after you've learned, there's no guarantee you'll know what to play." "Well," says Ben, "it may be that the older some players get, the better they are. At least I hope so. You keep hearing different guys and learning different things, and that helps. That's the reason I go around and listen to different players all the time. That's a must."
The growth of a jazzman of whatever age comes back to what Duke Ellington has said: "the most important thing is listening. That's the first important step in becoming a musician. If and when they stop listening — to themselves or to somebody else — they're no longer with music."
-- Nat Hentoff, 1957