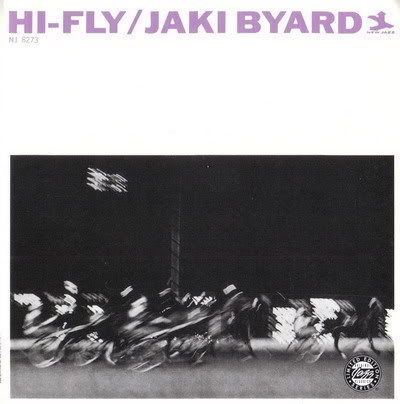 Nat Hentoff Liner Notes for Jaki Byard's Hi-Fly
While I was still in Boston in the early 1950s, the word spread among the more venturesome young jazzmen that a key source in town for new ideas in both improvising and composing was Jaki Byard. Gradually, Jaki's reputation began to spread through his playing and arranging for the Herb Pomeroy band; and more recently, as a result of a two-year stay with Maynard Ferguson. Jaki left Ferguson in October, 1961, and is now established in New York with his own combo. As a result of his first Prestige album,
Here's Jaki
, Jaki's originality and two-handed resourcefulness as a pianist are beginning to reach more and more listeners.
Now this set should help move Jaki farther along toward the large-scale recognition he has merited for so long. In addition to three originals, Jaki has chosen five compositions from the standard jazz repertory; and his selections illustrate the scope of his background in jazz, ranging from part of James P. Johnson's "Yamecraw Suite" to Randy Weston's "Hi-Fly." Jaki begins with the latter which he likes because "the tempo always seems to sit just right, and the chords move so naturally." Jaki's asymmetrical, dissonant introduction soon eases into an irresistibly pulsating groove. Bassist Ron Carter, who also can be heard on the Here's Jaki album, is a favorite of Jaki's because "he doesn't care what you ask him to do. Some bass players will say they can't do certain things. Ron just goes ahead and does them. Aside from the fact that his time, tone, and technique are brilliant, Ron has a longer vibrato than most bass players, and that leads to more of a relaxed feeling." Pete La Roca has for several years impressed this listener as a particularly alert and crisply imaginative drummer. "I played with him behind Don Ellis at a club," says Jaki, "and Pete fascinated me. He reminds me somewhat of Philly Joe Jones, but he also has a very personal feeling for the beat. He's exceptionally alive as a drummer. He just throws those rhythms in there!" The late Tillie Butterball was a puppy housed by the Byard family from Christmas to last Easter when it expired. "In a way," says Jaki of this intensely vigorous tune, "this is a description of the way the puppy used to bounce around." Perhaps adding to the swirling force of the song is the fact that Jaki composed it during a gig at a bowling alley on Long Island. "As I was working it out," he says, "I could hear the balls rolling and pins falling, and something of those broken rhythms got into the song." Characteristically, Jaki's melodies are buttressed by penetratingly individualistic harmonies. James P Johnson introduced his "Yamecraw Suite" at a 1928 concert in New York. Fats Waller, a musician much admired by Jaki, was the piano soloist. The large orchestral and choral work was made in a film short in the early 1930s. For this album, Jaki excerpted a 12- bar phrase from the suite and constructed his own absorbing variations on that base. "Perry Bradford, the publisher of `Yamecraw'," says Jaki, "approached several other musicians to try the work or parts of it, but oddly, none were interested. Then he came to me, and I was delighted to include it on the date. James P was a fine composer, and his longer works deserve much more than they've received so far." "There Are Many Worlds" is part of one of Jaki's own suites. It consciously reflects an Ellington tinge, and the message of the piece, says Jaki, "is that music is no different from anything else in the sense that there are so many different ways in which to move and grow. The world, in short, is full of bags." In this track and on all the others in the album, I am most struck by Jaki's enormous vitality, his vivid and often humorous melodic imagination; his bristling beat; his orchestral sense of texture; and his unerring feeling for structure and dynamics. Jaki's a strong pianist, and fortunately he has, in Carter and La Roca, two colleagues who are themselves powerful and flexible enough to blend with him on equal terms. The suite as a whole, incidentally, was originally written for full band and strings; and it would be illuminating to hear Jaki powering as well as being powered by a big band in materials of his own choosing. "Here to Hear," another Byard original, means just that. "I figure," says Jaki, "I'm here to listen and to play. I'm not looking any more for that thunderbolt kind of recognition that comes to some in jazz. I'm just going to continue absorbing what I can and trying to say things in my own way." The tune uses varying meters after a uniquely evocative introduction which sets the self-searching mood of the piece as a whole. The quality of introspection, however, is far from peaceful. "Here to Hear" is a kaleidoscopic play of emotions which range from gentleness to blazing impatience. It seems to me that there are more provocative challenges and substantial invention in this composition than in half a dozen ordinary jazz "originals" combined. Of "Lullaby of Birdland," Jaki says, "I know it's fashionable to put down George Shearing, but I feel he's made a contribution, and this tune of his has certainly lasted. I always get requests for it, and this is very much the way I do it at a club." Byard's interpretation swings with ease, warmth, and as usual, with that
full piano sound Byard draws from the instrument. "Round Midnight" is by a composer whom Byard particularly admires. "For me," says Jaki, "the most astounding thing about Monk as a composer is his lyric sense. Monk's pieces could be show tunes. You take a bunch of his originals, and you'd have a good musical. His melodic sense is so strong that you can sing anything he writes; and always, you know it's him." Jaki plays the tune in a way that underlines his own considerable lyric strength, and Ron Carter adds a persuasive solo. Jaki included Oscar Pettiford's "Blues in the Closet" because it's a song that has been closely identified with Bud Powell. "Bud," explains Jaki, "was the main influence for all of us in terms of showing what could be done with single-line playing." The track is one of the most enlivening versions of the tune yet recorded, and it provides Pete La Roca with a chance to display the bracing accuracy of his technique and his fiery imagination. There is also an impressively full-bodied Arco solo by Ron Carter. Jaki Byard, along with playing in and around New York, continues to compose, and hopes eventually to play more often on the concert and college circuit. He also plans to write musicals. Whether or not it is true that the thunderbolt of sudden fame has missed Jaki, expect that his reputation will continue to grow on so solid a base of accomplishment that in a few years, it will suddenly occur to many jazz listeners that Jaki has been a major jazz figure for quite a long time, no matter what the polls have said.
—Nat Hentoff