A friend, half-jokingly, called me a polytheist last night, in response to me saying "Joe Albany [another forgotten master/poet of jazz piano] is God!" Well, I can see myself more as an atheist polytheist, and in that case one of the non-jazz
guiding sounds of my early teens
was Bob Dylan and The Band's
The Basement Tapes
(released 1975). The cassette that was bought by an Iranian friend in San Francisco, circa 1975-76 was inherited to me in 2000, and I wasn't the same person after that.
I'm not going to talk about the album, but about a surrealist song of that set, among other surrealist takes, called Open the Door, Homer. The problem I had, because of the lack of confidence, knowledge or whatever you call it, I couldn't understand why Homer in English sounded like Richard. It took some times to understand, yes, he is singing Richard, and not Homer. That was the beginning of a rather long story about the song which originally should have been titled Open the Door, Richard!
Dylan is famous for using other people's songs, changing the words, and making it something of his own. In this respect he reminds me of French painter Marcel Duchamp and his idea of "ready-made" objects in art. During
The Basement Tapes
sessions in Big Pink and other club-houses of Woodstock, New York, he and The Band performed many of other people's songs, and sometimes the choices were really odd.
Open the Door, Richard started out in 1919 as a Harlem black vaudeville routine by John Mason. It was first recorded in 1947 on the Black & White Records label by saxophonist Jack McVea and became the number one song on Billboard. The same year Count Basie recorded the song with his orchestra (Lewis, Newman, Berry, Young, Edison, Robinson, Johnson, Matthews, Donnelly, Love, Rutherford, Gonsalves, Tate, Washington, Green, Page, Wilson) and humorous vocal part was done by Harry 'Sweets' Edison and Bill Johnson. It was released by RCA Victor Records and reached the Billboard magazine Best Seller chart on February 7, 1947 and lasted four weeks on the chart, peaking at number one.
After these successful singles, it became a safe bet for many artists through the years, including Louis Jordan. According to Wikipedia, "the phrase 'Open the Door, Richard' passed into African American Vernacular English and became associated with the Civil Rights Movement. When college students marched in 1947 to the state capitol demanding the resignation of segregationist governor Herman Talmadge, some of their banners read 'Open the Door Herman'. The Los Angeles Sentinel used 'Open the Door Richard' as the title of an editorial demanding black representation in city government and a Detroit minister used the title for a sermon on open housing."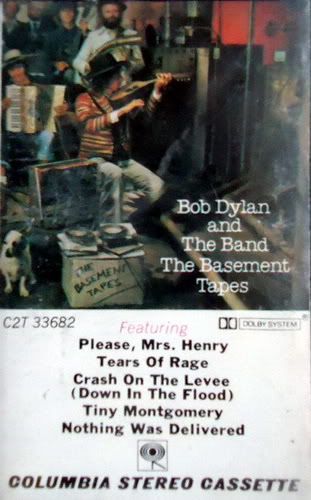 Now flash-forward to an unknown day between April to early/mid-May 1967 in Big Pink, when Dylan pays his tribute to Count Basie, the world of vaudeville, drunk songs, André Breton, and Jesus Christ by playing Open the Door Richard, in a slightly different way. Sid Griffin, in his study of the Basement Tapes recordings says "it is a nonsense song based on a nonsense song." Here Dylan plays acoustic 12-string guitar. Rick Danko on bass backs Dylan's vocal, so does Richard Manuel who also plays Piano. Hudson is on organ and Robbie Robertson produces his signature rattling sound on electric guitar. Not many listeners notice that the famous Basement Tapes recordings (especially all the materials from Big Pink) are drum-less and no Levon Helm is ready to kick yet.
And concerning Homer sang Richard, Rick Danko explains that Dylan changed the name of the title to Homer so folks would not think it is reference to Richard Manuel. Obviously one can notice that Richard has changed to Homer, and not John for instance. The vaudevillesque nonsense context of the song has changed to a religious nonsense which I find moving and poetic.
In
The Basement Tapes
many references to the Old and New Testament are present. And when Dylan sings "Take care of all your memories/Said my friend, Mick/For you cannot relive them/And remember when you're out there/Tryin' to heal the sick/That you must always/First forgive them" Sid Griffin argues that Dylan must have been reading the book of Matthew, chapters four and five which "deals with such deeds as a sign of powerful prophecy and a sign of God's love." (Griffin, P. 212)
Listen to this audio file which starts with Basie, switches to Dylan and The Band, and again returns to Basie for the finale. Also some classic interpretations of the song is complied in
this playlist
from Spotify.