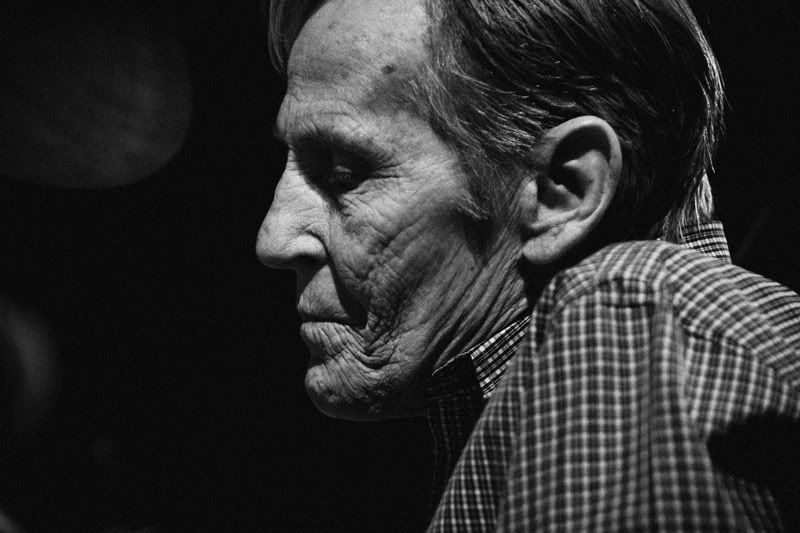 [update April 19, 2010, 20:27 GMT] Levon left us.
"Levon Helm passed peacefully this afternoon. He was surrounded by family, friends and band mates and will be remembered by all he touched as a brilliant musician and a beautiful soul."
B
ad news travels fast. Yesterday Levon Helm's family broke the news I was afraid to hear in a while:
Dear Friends, Levon is in the final stages of his battle with cancer. Please send your prayers and love to him as he makes his way through this part of his journey.

Thank you fans and music lovers who have made his life so filled with joy and celebration... he has loved nothing more than to play, to fill the room up with music, lay down the back beat, and make the people dance! He did it every time he took the stage...

We appreciate all the love and support and concern.
From his daughter Amy, and wife Sandy
I don't intend to argue about Helm's status in rock music, or muse about the man who I consider the best rock drummer in the history of this music. Instead, I want to remember him and groove with him again, now that he is still with us. I don't think Levon expects any prayer rather than music from us folk here. So join me in a celebration of Levon Helm's music in The Band.
None of these tracks have been released before, and depending on the source, qualities varies from low to very good soundboard recordings. I've mostly chosen tracks with Levon as the lead singer. Let's pray for Levon Helm. This very rare collection of songs will take us to the heart of country music, blues, blue grass, mountain music, Delta music, Rockabilly, or more likely, the way Levon puts it, Rock 'n' Roll.
THE BAND are Rick Danko, Levon Helm, Garth Hudson, Richard Manuel and Robbie Robertson.
Rag Mama Rag
Ultrasonic Studios, Hempstead, New York, December 1971.

Don't Ya Tell Henry
Live at the Yasgur's Farm Field, Bethel, N.Y., Woodstock Festival, August 17, 1969.
Look Out Cleveland
Philadelphia, PA, October 26, 1969.
Rumor
Pittsburgh, PA, January 11, 1970.
Strawberry Wine
Live at the Worcester Polytech. Inst, Worcester, MA , July 11, 1970.
W.S. Walcott Medicine Show
Live at Royal Albert Hall, London, June 2, 1971.
Life Is a Carnival
Live at the Raceway, Watkins Glen, New York, July 27 or 28, 1973.
Up on Creeple Creek
Live at Roosevelt Stadium, Jersey City, New Jersey, August 1, 1973.
The Weight
Live at Roosevelt Stadium, Jersey City, New Jersey, August 1, 1973.
Across the Great Divide
Live at Barton Hall, Cornell University, Ithaca, New York, September 4,1974.
Forbidden Fruit
Live at the Carter Baron Amphitheater, Washington, DC, July 17, 1976.
Battle Is Over But The War Goes On
The Catalyst, Santa Cruz, California, October 8, 1986
[no Robbie Robertson. Instead, Jim Weider on guitar]
The Night They Drove Old Dixie Down
Boston, MA, September 2, 1976.